3/3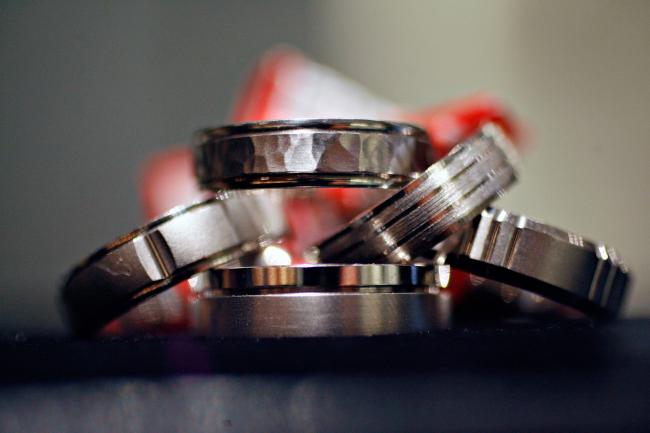 © Bloomberg. Palladium wedding bands are displayed for a photograph in a a Fortunoff store in New York, Monday, May 21, 2007. Supplies of palladium are declining because Russia, the producer of about half of the global supply, will slash exports for the second straight year, according to Johnson Matthey Plc, the largest marketer of the metal. Palladium may jump 37 percent to $500 an ounce by yearend, says Gerry Schubert, a director ofmetals in London at Fortis, Belgium's biggest bank.
2/3
(Bloomberg) — Palladium climbed above $1,000 an ounce for the first time since 2001 as global demand grows for the metal in pollution-control devices used by gasoline-powered vehicles.
Prices jumped as much as 1.6 percent to $1,007.42 on Monday, before trading at $1,005.55 by 8:14 a.m. in London. The metal is one of this year's best performing commodities, advancing 48 percent, more than three times the increase in gold and about 10 times the gain in its sister metal platinum.
Palladium became more expensive than platinum last month for the first time in 16 years. The latter is used to cut pollutants from diesel vehicles, which are now less popular, particularly in western Europe, after some automakers admitted to cheating in emissions tests.
Things could get worse for platinum. The European diesel-engine market share could halve by 2025, potentially removing 300,000 to 600,000 ounces of platinum demand over the next 10 years, according to Citigroup Inc. Palladium, on the other hand, is expected to remain in deficit, although it will begin to ease over the long term, the bank says.
Citigroup (NYSE:C) sees global surpluses in platinum stretching out to 2020, while the shortfall in palladium is set to widen to more than a million ounces next year before narrowing to 750,000 ounces by 2020, the bank said.
"Despite the PGM spread inversion since the end of September, we remain favorable to palladium over the short term," Citigroup analysts including Nell Agate wrote in a note dated Oct. 13. "However, ever-looming substitution risks prevent an outright bullish view on palladium over the long-term."
United Overseas Bank Ltd. said last week that it expects growing demand for gasoline emission-control devices to support palladium and continue to fuel outperformance over platinum.
European car sales growth accelerated in August as an expanding economy encouraged purchases and French manufacturers PSA Group and Renault SA (PA:RENA) won buyers with new SUVs and hatchbacks. Car sales are set to rise further this year as manufacturers offer incentives to trade in older diesel cars for models meeting tighter pollution standards amid German government pressure stemming from Volkswagen (DE:VOWG_p) AG's emissions-cheating scandal.
sponsoredArticle = 'div-gpt-ad-1466339494851-0';