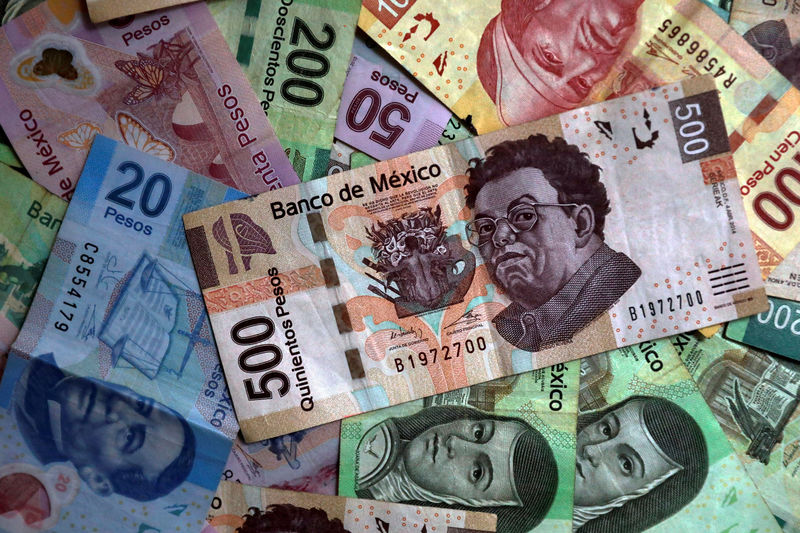 © Reuters. FILE PHOTO: Mexican pesos are seen in this picture illustration
MEXICO CITY (Reuters) – Mexico's central bank is likely to maintain a prudent monetary policy stance due to "adverse scenarios" in Mexican-U.S. ties, which could heighten risks for economic growth and the peso currency, most of the bank's board members said in minutes published on Thursday.
Mexican, Canadian and U.S. trade talks were under way near Washington on Thursday to re-negotiate the North American Free Trade Agreement.
A majority of board members said uncertainty over those talks and the 2018 Mexican presidential election, could also affect the peso exchange rate.
"The balance of risks to growth has deteriorated, particularly due to the perception that adverse scenarios related to the bilateral relationship between Mexico and the United States could materialize," the minutes said.
As a result, the bank said it should be ready to maintain a "prudent" monetary policy position.
U.S. President Donald Trump has criticized NAFTA for luring U.S. manufacturing jobs to low-wage Mexico and has vowed to quit the pact or revise it to reduce his country's $64 billion trade deficit with its southern neighbor.
The 23-year old NAFTA agreement has become a central tenet of Mexico's export-led economy.
The central bank minutes show the concern board members had that an end to the pact could negatively impact large parts of the economy.
Last month, Mexico's central bank unanimously decided to leave unchanged its benchmark rate at 7.0 percent .
However, minutes from the Sept. 28 meeting showed that most board members thought risks to growth and inflation were worse than before. Most said uncertainty around NAFTA and Mexican presidential elections could affect peso in the short term.
Nonetheless, the bank said it sees annual inflation trending toward its 3 percent objective by the end of 2018. The bank said recent earthquakes could result in price rises in some products, but that they would be temporary.
sponsoredArticle = 'div-gpt-ad-1466339494851-0';