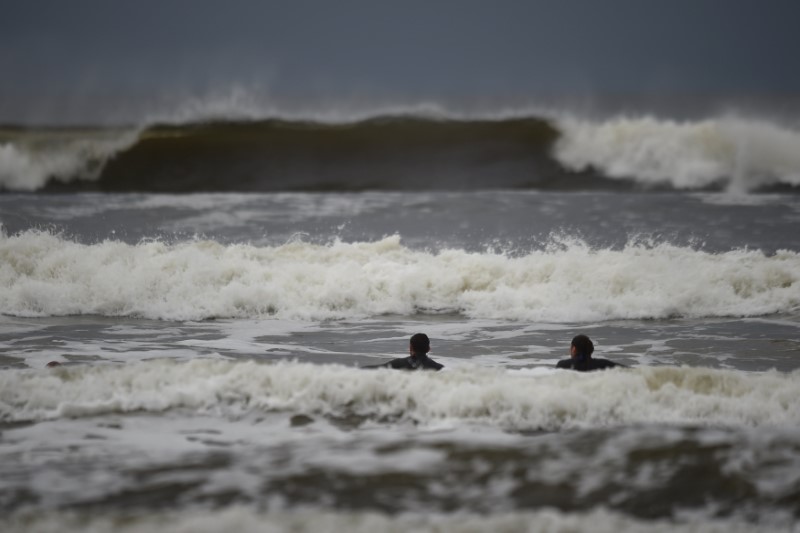 © Reuters. Surfers watch as waves approach in the Atlantic on the eve of storm Ophelia in an area where the tide should be out in the County Clare town of Lahinch
By Clodagh Kilcoyne
LAHINCH, Ireland (Reuters) – Ireland closed schools and hospitals on Monday and warned people to stay indoors as tropical storm Ophelia threatened to lash the country with the worst weather in 50 years.
The armed forces were dispatched to bolster flood defenses in some areas as the weather service warned of flash flooding and damage to buildings as winds gusts over 130 kilometers per hour (80 miles per hour).
Hurricane force winds are expected in every part of the country, the government warned. Tropical-storm force winds may also be seen in Wales and the north and west of England, the U.S. government's National Hurricane Centre said.
"Our concern is to avoid a situation where we have fatalities as a result of the extremely destructive and violent gusts that we are expecting," the chairman of Ireland's National Emergency Coordination Group Sean Hogan told state broadcaster RTE.
"All non-essential activity should be deferred. Do not be out tomorrow in this storm," Hogan said.
Britain's meteorological service put an Amber Weather Warning into effect for Northern Ireland from 1400-2100 GMT, saying the storm posed a danger to life and was likely to cause transport cancellations, power cuts and flying debris.
British media are comparing the storm to the Great Storm of 1987, which subjected parts of the United Kingdom to hurricane strength winds 30 years ago to the day.
The center of Tropical Storm Ophelia, which was the sixth major hurricane of the Atlantic season before it was downgraded to a tropical storm overnight, was around 300 kilometers south of Ireland on at 0500 GMT on Monday, the Irish weather service said.
It was expected to make landfall at around 0900 GMT, it said.
The center of the storm was expected to move across Ireland during the day before moving towards western Scotland overnight.
The government said the storm is likely to be the worst since Hurricane Debbie, which killed 12 in Ireland in 1961. It warned of likely disruption to the electricity network and damage to buildings from strong winds.
The storm is likely to pass close to a west of Ireland golf course owned by U.S. President-elect Donald Trump, who has been planning a wall to protect its greens from coastal erosion. [nL5N1E14LN]
Similar sized storms in the past have changed the shape of stretches of the Irish coastline, climatologists said.
sponsoredArticle = 'div-gpt-ad-1466339494851-0';