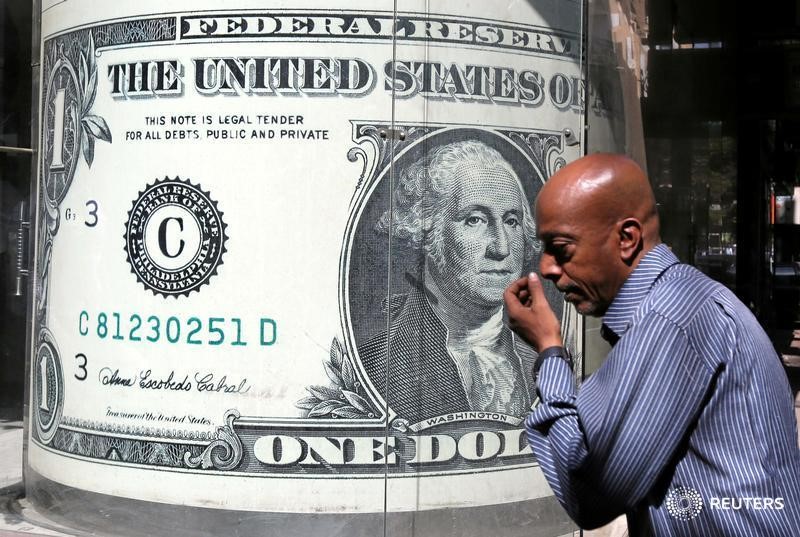 © Reuters. Dollar steady with geopolitical tensions in rocus
Investing.com – The dollar held steady against a basket of the other major currencies on Monday as fresh worries over geopolitical risks helped underpin demand for the safe haven yen.
The U.S. dollar index, which measures the greenback's strength against a trade-weighted basket of six major currencies, was at 93.62 by 04:32 AM ET (08:32 GMT) holding below Friday's more than two-month high of 94.10.
USD/JPY was last at 112.66, little changed for the day. On Friday the dollar rose to 113.43, the most since July 14 before retreating.
The dollar turned lower on Friday following reports that North Korea is preparing to test a long-range missile that it is believed could reach the west cost of the U.S.
The dollar had risen earlier Friday as higher than expected wage growth in the U.S. jobs report for September was seen as potentially boosting inflation.
The U.S. economy lost 33,000 jobs in September, the Labor Department reported Friday, ending seven straight years of job growth. But the decline was driven by slower hiring due to the effects of Hurricanes Irma and Harvey.
The unemployment rate fell to 4.2%, the lowest since 2001 and average hourly earnings rose 2.9% from a year earlier.
The uptick in wage inflation bolstered expectations that the Federal Reserve will hike interest rates in December.
The euro was almost unchanged against the dollar, with EUR/USD at 1.1728.
The pound moved higher, with GBP/USD advancing 0.35% to 1.3110.
The recovery came after sterling ended the previous week down almost 2.5%, the largest weekly decline in more than a year as concerns over divisions in British Prime Minister Theresa May's government over Brexit weighed.
Elsewhere, the Turkish lira tumbled overnight as a brewing diplomatic crisis between the U.S. and Turkey escalated.
USD/TRY was last up 2.35% at 3.7016 after jumping as high as 3.7487 overnight, the most since mid-March.
The New Zealand dollar was trading near four month lows, with NZD/USD last at 0.7075 as political uncertainty in the wake of last month's elections continued to weigh.
sponsoredArticle = 'div-gpt-ad-1466339494851-0';